Freshtight Designs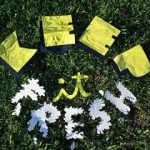 As a rule of thumb, I generally try to take advantage of every place that I live for what it has to offer. Life can lead you in ways that you never expect, and you never really know where it will take you. As John Lennon once sang, "Life is what happens when you're busy making other plans". It is in my experience, that if you take things for granted and assume they will always be there, you may lose your golden opportunity. To some regret, the time I spent in Ann Arbor was predominantly focused on achieving my own goals, which left me rather devoid of a social life and a chance to really explore my surroundings and meet others. Subsequently, I never took advantage of my close proximity to Detroit. Before I knew it, life brought me to Portland and the opportunity has been lost for now.
One day, shortly before I knew for certain that I was moving, I received an email from Stephanie Harden at Freshtight Designs. She had found my information and portfolio online, and wanted me to take part in the Second Annual Emerge and See event presented by Freshtight Designs, the brainchild of both Stephanie and Tarun Gehani. I was very flattered by this invitation, and certainly intrigued by this event that unites artists, performers and the community. After some correspondence, I was able to catch up with Tarun for coffee one afternoon.
Unfortunately, I moved before the event took place and didn't have the opportunity to experience it for myself. Although collaborating and working on the event didn't quite work out, we have kept in touch, and I plan to be involved with Emerge and See 2011. Additionally, I hope to be able to collaborate with Freshtight Designs on future projects as we work to hopefully bridge the gap between the West and the Midwest. I am incredibly inspired by their efforts to bring the community of art together, and thus, I hope their story will inspire all of you to fulfill your own dreams. Recently, I had the opportunity to interview both Tarun and Stephanie to delve further into their story.
SS: Are you both native to Michigan, near to Detroit/Ann Arbor?
Freshtight:We both grew up in Michigan. Stephanie went to the College for Creative Studies in Detroit and Tarun attended Western Michigan University in Kalamazoo. Stephanie moved out to Ann Arbor when she got a job at The University of Michigan, Ross School of Business as a Graphic Designer. Tarun moved to Ann Arbor for a job at MS&L and to be a part of such a vibrant arts and music community.
SS: How did you both meet?
Freshtight: We met through our mutual friend, Jaclyn Schanes, who went to high school with Tarun and college with Stephanie. Jaclyn continues to be a great friend and participated in this year's Emerge and See.
SS: What were you both doing before you started Freshtight Designs?
Freshtight: Before Freshtight Designs, we both were pretty involved with the local art scene. While Stephanie maintained her steady, full-time job, she would also help fellow artists to promote and prepare for their upcoming shows, while having her own creative fun with personal projects. Tarun was an active member in the music community, playing the drums in a local band called Commerce and Hiller and organizing small, local events, while maintaining his full time job.
SS: What does Freshtight do?
Freshtight: Freshtight Designs is 3-fold. One, and most importantly, we created this company to be a network for the creative community. We are gradually building up our network full of designers, artists and musicians, and hope that as a team, as a family, we can collaborate our efforts on many different levels and produce some amazing results. Two, we are a graphic design and web design firm. Three, we offer additional services such as Social Media Marketing, event promotion and organize and host many area art and music events.
SS: How did the idea for Freshtight Designs develop?
Freshtight: As most every business is first conceptualized, the idea for Freshtight Designs developed during a long night of drinking.
SS: What came first, the name or the company?
Freshtight: Haha, a little bit of both, but I would say it was the company
SS: How was the name derived?
Freshtight: When thinking about what our company had to offer – keeping designs fresh while bringing our community together – seemed to fit pretty well with our newfound trendsetting adjective of "freshtight" – making our company Freshtight Designs.
SS: How long were you both involved in the design/art world prior to starting Freshtight?
Freshtight:We feel that we have been involved with the design/art world as long as we can remember. We've always wanted to highlight and collaborate with similar individuals.
SS: Did you always know that you wanted to be artists/designers/creators?
Stephanie: Yes. Stephanie feels it was her calling to be an artist. It's the only way of communication that makes sense to almost everyone – no matter the age, gender or ethnic background, everyone takes something from an artist's creations.
Tarun:I've always considered myself an artist – I've played the drums in numerous bands since I was in middle school and I write poetry and short stories in my free time – but never thought that I could take things to this level. I've always known that I wanted to be an entrepreneur of sorts, always wanted to be my own boss, decide my own schedule, but I never would have known it would be in this degree.
SS: How long now has Freshtight been in existence?
Freshtight: Freshtight was formed in early 2009, so we've been in business for almost 2 years.
Tarun: I just recently ventured out and have attacked it full-time, starting in July 2010.
SS: Who is your typical customer? How do they hear about you?
Freshtight: Our typical customers are small to mid-size companies, and local artists and musicians. On the design, website, and social media front, we are starting our focus with Michigan-based companies. For events and other collaborative efforts (such as our Artist Profiles and Artist Promotion) we also focus on the local community. We feel that Michigan has a lot to offer on many levels and we strive to help push this content – this art, out into the world. People usually hear about us through word of mouth, still the best form of advertising! Also from fellow artists/musicians/past clients, our website, our social media network, or a good old Google search!
SS: What is Emerge and See and the meaning of the name?
Freshtight:Networking. Collaboration. Show and tell. Local Stardom. The event allows all types of artists and musicians to get out there and show their community what they have to offer – they are emerging artists who would like you to see what they can do – it also seemed to work well with the event date – 9/11.
SS: About how long did it take for Emerge and See to go from concept to reality?
Freshtight: Haha…when we have an idea, we like to act fast! Started planning about 5 months prior.
SS: What was the inspiration for Emerge and See? Was Emerge and See modeled after any other events? Can you also elaborate on the name "Emerge and See"? I understand that it is a double entendre.
Freshtight:We wanted to create a new experience. We took the idea of a music concert and the idea of an art show or gallery opening, and merged them together, but keeping our focus on the idea of live creations. Both music and art are very influential of each other. The event is a by-product of the environment itself. The artists, musicians, live performers and audience are all key ingredients to the Freshtight creative process.
Emerge and See is a live art and music fusion event. It's an annual event that started in 2009 and came from a merging of a few ideas. We've always enjoyed attending and organizing live music events, and also art gallery openings or showcases, but had never witnessed a combination of both. You think about seeing a band perform on stage; they are essentially creating their music live. Yes, it most likely is a bunch of songs that they have previously written, and are now playing them live, but it is much more than that. It is their art, their expression, their soul laid out there for all to witness, to relate, to judge, to sing… you as an audience member are now part of that music, part of that environment. So we thought, why not do the same with art? Let's have some live painters, live dancers, live screen printers, along with the DJs and musicians, and let's create something unique, focusing on the local, and not excluding any medium, any genre. What emerged was Emerge and See.
Yes, Emerge and See is definitely a double entendre and that's part of the reason we chose the name. We wanted to encourage the public to emerge and see; to come out and witness all the great creations that were happening in their local community. It just so happened that the only available date at The Crofoot was September 11th that year, so hence the name was formed.
I would be lying if I said that Emerge and See didn't get its influence from other, similar events, but we don't like to say they are the same. What we did is take certain concepts and details from other successful events, many our own past ones, and combined them, stacked them on top of each other to give a foundation for Emerge and See. We wanted it to be a festival of sorts, where each room inside the Crofoot complex was a different atmosphere, a different vibe and experience, and thus catered to many different styles and tastes. We had the main Ballroom which hosted to more well-known (and loud) bands and DJs along with the breakdancing and other dance crews, the Vernor's Room as sort of a side stage spotlighting local talent, the Café with more of the acoustic tunes and a quieter, lounge-type atmosphere, the Balcony where artists and other vendors set up tables and walls and sold their artwork, and the outdoor Patio which hosted the live graffiti, additional DJs, and the food. We also included a few interactive art installations where party-goers could create their own art using Sharpies and recycled plastic milk jugs. We took advantage of the large projection screen in the Ballroom, featuring a video montage put together by a local artist.
SS: Had either of you had a hand in running events prior to this?
Tarun: I had organized a handful of events before running Freshtight Designs as well as setting up numerous shows for my old band Commerce & Hiller. The events of the past were anything from magazine release parties, to live bands and DJs, to live interactive paintings at art lofts.
Stephanie: I started organizing and hosting events during my college years – usually with a few bands and/or DJs, just to bring awareness to the local music community and offer college students alternatives to the stereotypical "bar nights."
Freshtight:For Freshtight Designs as a group, Emerge and See 2009 was the first event we organized and hosted ourselves. After that, we got invited to participate in some local events such as Celebrate Michigan Design by AIGA, Interfaces 2010 by the International Academy of Design and Technology, the We Like Music Festival put on by CJAM Windsor, Real Detroit as well as many others, and will be sponsoring and participating in the 5th annual Detroit Urban Craft Fair this coming December. We also organized a monthly hip hop series featuring some of the area's best lyricists, DJs, producers and breakdancers, and are helping organize an album release party for a local hip hop group this November 24th.
SS: How did you find performers and artists for the event?
Freshtight: We both have great creative resources. Stephanie's comes from her background as an art/design student at CCS and Tarun's comes from his background as a musician, and his active role in promotion. Many of the performers and artists for the Emerge and See 2010 event were groups and individuals who reached out to us online, who we talked to at shows and other events, or were recommended by performers from last year. There were a handful of musicians and vendors who participated in the 2009 and 2010 events. We also had a Participant Application Form on our website and reached out through our various social media networks to spread the word.
SS: How many artists and performers took part in the event?
Freshtight: Close to 150 individuals.
SS: About how many attendees were there?
Freshtight: Roughly 500 attendees
SS: Were there any major snafus or last minute disasters?
Freshtight: I wouldn't call them disasters, but every event has its last minute humps.

SS: What was the highlight of the day?
Freshtight: The infectious creative energy in the building.
SS: How many people did it take to make this event happen?
Freshtight:Handfuls of volunteers, we could use more help next year!
SS: How did the September Emerge and See event go? How far in advance do you have to begin planning and preparing for the event? What were the highlights?
Freshtight: Emerge and See 2010 was a highly successful and amazing event. We had over 50 bands, DJs, and participating artists from all over Michigan who spanned numerous categories and genres. We had everything from indie rock, stadium rock, instrumental, folk, blues, to hip hop, break beats, techno and other electronic music. Art on display and for sale ranged from hand-blown glass, clothing, screen prints, jewelry, graphic design, photography and more. This year we had roughly 500 attendees, up from about 300 last year. With events this large in scale, there are bound to be some hiccups. We're happy to say that nothing major or highly stressful went down, despite the complexity and tight time schedule of the event.
It is hard to narrow down the whole event into any few highlights but some in particular come to mind. One was the Capoeira dance by the Michigan Center for Capoeira. Their performance was breathtaking and particularly interesting because of the amount of audience participation. Another act that the crowd really enjoyed was an emcee by the name of Atlas Red. He has quite the unique sound (and beats) and what is most surprising is the fact that he is about 50 years old. I don't think a lot of people were ready for that!
An event such as this involves the help and efforts from a great number of people. We couldn't have done it without the numerous volunteers how helped with everything from conceptualization, to promotion, to scheduling and set up/tear down. Freshtight Designs has always lived by the mantra: We're in this together, and this event couldn't have defined it better.
SS: How has Emerge and See evolved since it's first year?
Freshtight: It's gotten bigger, generated more buzz and we've explored many new performance types.
SS: In your opinion, what is the best thing to come out of the Emerge and See event(s)?
Freshtight: Giving the artists and musicians a chance to be seen and heard. Showing them that they can promote and sell themselves, without selling out. Providing moments in time that offer future success.
SS: Do you have any big projects or events coming up?
Freshtight:We have an event in the planning stages we are doing with Metro Times. It will be at a local skate park called Modern Skate. We'll have about 7 bands – in all types of genres from rock, blues, stadium rock, hip hop, reggae – and a BMX open ride session (so there will be skateboarding and BMX riding going on at the same time as bands and groups are set up on stage rocking out)…. more details to be determined. That will be Saturday, January 22nd at Modern Skate & Surf in Royal Oak, MI.
SS: Do you have any advice for people thinking about or in the process of starting their own company, or going rogue to join the freelance world?
Freshtight: Any advice for people looking to run their own event? Call us!!! We would love to help you!
SS: What is the most important thing you have learned since you started Freshtight?
Freshtight: Patience.
SS: What is the most rewarding thing to come from all of your accomplishments thus far?
Freshtight:Watching our dreams come to life, while working with some of the most talented people of our time.
I would like to offer a special thank you to both Stephanie and Tarun for allowing me to interview them and share their inspiring story. For more information on Freshtiight Designs, visit their website, like them on Facebook, or follow them on Twitter!


---